Laugh your socks off, learn the moves and join this FUN Girls Night Out class:
To register for any sessions, or to be added to our mailing list please go to the above tab 'Wine about Burlesque'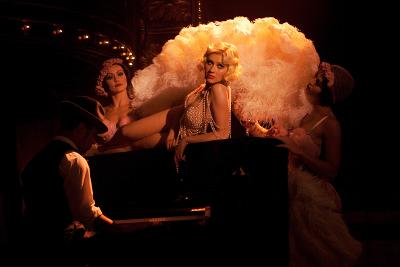 Bring your smiles, laughs and high heels into our Burlesque Jazz class. Enjoy the sizzling dance style, cool retro tunes and a lot of sassy fun.
Have a night of fun with your girls.
What is Burlesque?
Burlesque as an entertainment art form evolved from the late 19th century through to the "bump and grind" era of the 1940s and 50s. In burlesque's heyday (those golden days before television, when people had to go out to be entertained) burlesque was a grand affair! A burlesque show combined live music, comedians, variety acts, a chorus line and of course, glamorous burlesque headliners, in an elegant theatre with a full orchestra, grand sets and elaborate costumes! A burlesque queen in this golden era would enchant with her beauty, delight with her dance, and captivate her audience with the art of the tease!
Ive never danced before, and i don't feel particularly glamorous, can i do this class?
ABSOLUTELY!!!! This class is all about sassy fun and fitness. Its a great workout for any fitness level. This class will take you on a journey starting with the VERY basics.
Show Girls and Burlesque is about drawing out your inner sensuality and finding ways to express it that suit you, no matter what your style, age, size, body type, background or ability. It doesn't matter if you're skinny or flat-chested, plus-size or pear-shaped, if you have cellulite or tattoos, whatever! We are people, EVERYONE is different. You will leave feeling sexier and empowered, and a whole lot more glamorous.
So get your girls together, let yourself go and enjoy a Sassy, FUN and Laugh-till-you-fall-off-your-chair kinda class (Because ........ there will be chairs of course! )
What should i wear?
Please wear whatever you feel comfortable in, and clothing that will allow for ease of movement/dance. Basic "workout" gear such as leggings and a top are perfectly fine if you so wish, however we do also encourage people to come along a little bit "dressed up" to each session as it really does add a bit of "Vamp", is great for your movement/dance technique, and most importantly, your self-confidence. Heels are also very useful and please don't wear jeans!